Ah, one of the many mysteries of life- finding comfortable heels that are still stylish.
I am a complete and total baby when it comes to uncomfortable shoes. Back when I was in high school and college, my favorite saying was "fashion over function." That changed quickly– I remember leaving my fifth high school reunion early because my feet hurt so badly.
While I don't have any particular foot problems per se, my inner b!tch comes out when my feet hurt. Over the years, I've discovered a few ways to keep my feet happy and pretty at the same time. Yes, it's possible!
These are my best tips for keeping your feet comfortable and fashionable:
Inserts
Most people have the same sensitivities when wearing heels. For me, it's the balls of my feet that bother me the most. Ball of foot cushions have been a huge relief for me. I've also used full gel insoles in the past. These are great to use if you have both heel and ball of foot pain.
The ball of foot cushions I have used are self adhesive, so they're very easy to use. I usually put them inside my shoe and put the shoe on to get the positioning correct. Then I stick them in.
Moleskin
Moleskin is amazing if your shoes rub on your feet. It's super easy to use and makes a big difference. It's also self-adhesive.
Most advise to apply moleskin directly to your feet, however, I put it directly in my shoes. The one I buy comes in sheets:
What I then do is insert the moleskin into the spots that bother my feet, and with a pen, mark where I need to cut it.
As you can see, these shoes are actually CALLED Comfort Plus, and still give me a problem!
Once they're marked with a pen, you can cut them to fit. Peel off the adhesive and you're good to go!
Style
Always consider the style of the shoe when considering comfort.
Pointy toes, while stylish, are often less comfortable than a rounded toe pump. The shoes I posted above (click here to see them on Amazon,) are actually a comfort brand, but the pointy toe gets really uncomfortable after wearing for a few hours. I have a pair of rounded toe pumps, these Lifestride Parigi pumps, and I can wear these comfortably for hours.
Strappy shoes, while beautiful and perfect for summer, can be uncomfortable too. The straps can cut into your feet, so I always go back to my trusty moleskin in these situations.
Wedges can add to your comfort level. I love wedges, and the extra base of support gives you extra comfort, too.
Comfortable Shoe Brands
There are quite a few brands that I've had great luck with, comfort-wise. Here are a few comfortable, stylish options.
Naturalizer: Naturalizer has been around forever, and they do have some cute styles that I really like. I have a pair of peep-toes from them that I love.
I love these wedges:
And these boot style sandals:

Lifestride:
I own a pair of these pumps (I mentioned them earlier
in the post) but they are worth a mention again. The rounded toe adds to the comfort.

I love the look of a pointed toe pump, so these are also on my wish list:

These peep-toes are super cute:


Aerosoles:
I actually have these from another brand, and I love them… would have probably bought from Aerosoles if I knew they had the same style!

Love the color of these heeled boots!

Dr. Scholls:
I had no idea that Dr. Scholl's had a shoe line! I discovered them a couple of years back, and they are super comfy, of course.
I have these booties, and they're crazy high yet crazy comfortable!

Kelly & Katie
Kelly & Katie is DSW's own line of shoes. While they aren't marketed as a comfort brand, I bought a pair of their shoes to wear to a wedding last year and was shocked at how comfortable they were. Their shoes are stylish and affordable.
I just bought these last week and love the look of them: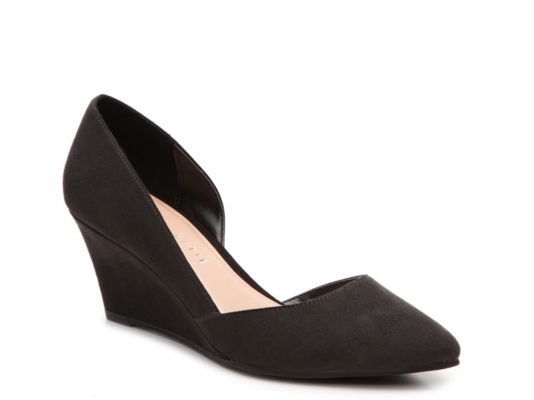 There are ways that you can have stylish, comfortable feet! With these tips, you'll have happy feet. Know of a brand or tip that I didn't mention? I'd love to hear about them in the comments below!